Moving Guide from Virginia Movers: How to Move to Arlington, VA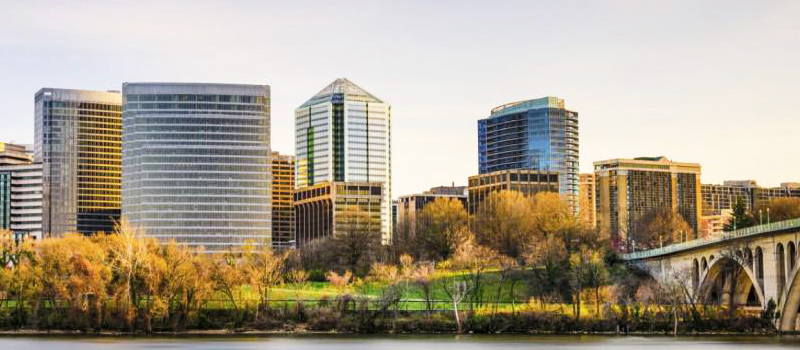 Moving day is always a time of mixed emotions. The excitement of your move to your new home and your new life can often be offset with the stress of making sure that everything is taken care of. Since Americans are often so mobile in our lifestyle, this is something that virtually everyone has experienced at one time or another.
That's where we come in. Virginia Movers can help you with all aspects of your move, and help with removing the stress that comes with moving.
We've written a guide for those moving Arlington VA to help with all aspects of your move, from your initial planning stages all the way to moving day. Our company is the premier movers Arlington VA. Out of all moving companies Arlington VA, we are trying to save the top of quality to help you with all of your needs. Whether you are moving into a house or looking for apartment movers, Arlington VA so Virginia Movers welcomes you!
Summary of Arlington – Interesting Facts
Location – northern Virginia, bordering the District of Columbia
Climate – Humid Subtropical, typical for mid-Eastern Seaboard
Arlington County, VA, often referred to as just Arlington, is a county in northern Virginia that borders the District of Columbia. While it is technically a county, people generally refer to it as a city, as it has a metropolitan feel, and is included in the Washington metropolitan area. As with most of this region of the country, the county is steeped in American history.
Climate in Arlington
The climate along the central Eastern Seaboard in the United States is much of the same, so the climate in Arlington is the same as the rest of the region. The area experiences hot, humid summers and mild winters, and is considered to be humid subtropical.
Arlington Neighborhoods
Arlington, while technically being a country instead of a city, has more than 50 neighborhoods within its borders, many of which actually resemble small independent towns. Many residents will often refer to specific neighborhoods as if they were a town, even though they technically are not.
Registering Your Car
Either during the process of your move or once you have completed it, you will need to register your car in the state of Virginia if you are moving from another state. While there are several DMV locations within Arlington, you can find the nearest one through Virginia's DMV Now website
Arlington Schools
If the quality of schools is one of your main concerns about your new city, then there is no need for you to worry. Arlington has an outstanding public school system, so you can be comfortable in the knowledge that your children will be able to get a good education.If you prefer to enroll your children in private or parochial schools, there are a large number of high-quality schools of both kinds that cater to children ranging from kindergarten to 12th grade. For higher education, Arlington is the home of Marymount University. A number of other universities either have a campus or research office within the city.
Things to do in Arlington
The entire state of Virginia is rooted in history, and Arlington is no exception. Due to this fact, there are a number of historic places located both within the city and nearby, such as Arlington National Cemetary, the Tomb of the Unknown Soldier, and war memorials for the U.S. Marine Corps and U.S. Air Force. Due to Arlington's proximity to Washington D.C., all of the U.S. Government buildings are also short ways away from Arlington, as well as other attractions within the area. A person can spend months just going to see all of these, and still not have seen them all! Needless to say, there is no excuse to be bored while living here.
Transportation in Arlington
As mentioned before, Arlington is in close proximity to Washington D.C., and the transportation system in the area reflects this. There are numerous thoroughfares that lead both to Washington D.C. as well as other parts of Virginia, as well as a robust public transportation system. For those with a passion for bicycles, you will be pleased to know that Arlington has more than 100 miles of bicycle paths, including paved tracks, on-street paths, and off road trails. In short, this area boasts one of the best bike infrastructures in the country.
Arlington Employment
As The Pentagon, the world's largest office building is located in Arlington, one can probably guess who the largest employer is in the area. The United States Government employs a large percentage of the population of this area, which means that employment opportunities are in abundance, especially for highly skilled workers.
Living Costs in Arlington
Arlington has a higher cost of living than most of the rest of the state of Virginia, largely due to its location. With Washington D.C. just across the Potomac River, many United States government employees make Arlington their home. With this higher cost of living, those comes the knowledge that this area is also one of the nicest areas to live in within the state.
Arlington Moving Resources
With the high population and proximity to the capital city of the United States, and with a large selection of movers, Arlington VA has a large infrastructure dedicated to moving resources. And one of the key components of this infrastructure is Virginia Movers, the premier movers Arlington VA. Those who are looking for movers in Arlington VA will find a large selection of Arlington VA movers. Since moving services Arlington VA are in abundance, though, it might be difficult to choose the right moving companies. Arlington VA is also serviced by a large number of apartment movers Arlington VA.
Arlington Relocation Tips
There are many things you should do before you search for moving services, Arlington VA is a large area, so trying to become acquainted with the area can be a daunting task. We recommend traveling to the area before you move, as this is the best way to find whatever places of interest that you may need to know about once you live here.It is also helpful to become acquainted with the infrastructure of the city, locating all necessary places and services that you would need for your home and life here. Also, you can get additional information about an estimate of moving process by filling in a moving quote.
We wish you good luck in your search for the right movers. Arlington VA is a very beautiful city, and we know that you will enjoy your life here!