Moving Guide from Virginia Movers: How to Move to Bedford, VA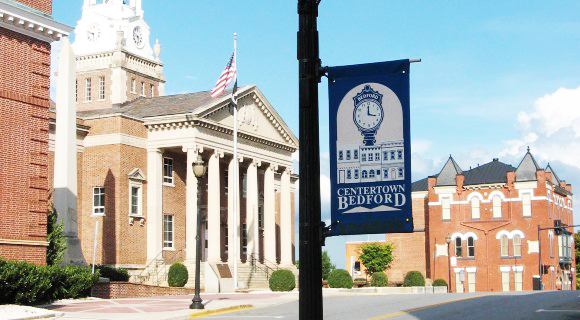 The dreams of comforts of a new home in a new city are often appealing to those who are planning a move. However, with those dreams can also be the nightmare that the reality of a move brings. Having to plan the move, coordinate movers with your schedule, pack up your entire house, and sign the contracts for utilities at your new place can all provide a great amount of stress.
Don't worry, though, we're here to help! During your search for Bedford movers, we can help provide you with some important resources for your move, including your search for a moving company. Bedford has plenty of options for movers, but the best option is with Virginia Movers. Let us help you with your plans for moving to Bedford. We can start this by providing you with this free moving guide.
Summary of Bedford – Interesting Facts
Location – Central Virginia, south of the Blue Ridge Mountains
Climate – Humid Sub-tropical
Bedford VA, known as "The World's Best Little Town", is a small town located in central Virginia, south of the Blue Ridge mountains. Being a very nice small city in a beautiful part of Virginia, some people call it "the place that sells itself". We would have to agree with this statement. With it being a part of the Lynchburg Metropolitan Area, Bedford has an ideal location for those looking for big city conveniences combined with small town comforts.
Climate in Bedford
As is typical for this part of Virginia, Bedford has a Humid Sub-tropical climate, which many people consider to be ideal living conditions. Summers can be mildly hot, winters mildly cool, and outdoor activities and comfortable weather can be enjoyed throughout the year.
Bedford Neighborhoods
Bedford has a population of under 7,000 people, so it is hard to define distinct neighborhoods within the town. However, it can be said that the town itself is a neighborhood, and as such, it is one of the nicest neighborhoods in Virginia. Those who live here will be quite happy with their surroundings.
Registering Your Car
Virginia makes it easy for people to register their car, even for those who are moving here from another state. The town of Bedford does have a local DMV office. Another choice for registering your car is through Virginia's DMV Now website
Bedford Schools
Bedford has a number of public schools in the area, which are administered by Bedford County Public Schools. With the small size of the town, convenient access to schools of all levels is never a problem.
For higher education, Bedford is not host to any colleges or universities. However, it's location within the Lynchburg Metropolitan Area means that the plethora of institutes within Lynchburg VA is close by.
Bedford Employment
For such a small town, Bedford has a large variety of industries, including health care and education, which remain the two top employers in the area. In addition to these, various other industries are located within the city.More importantly, however, Bedford's location within the Lynchburg Metropolitan Area means that residents of Bedford have access to a large number of industries in this area. No matter what industry you work in, you should always have a number of employment opportunities here.
Living Costs in Bedford
One of the main draws of Bedford is its affordable cost of living, especially in comparison to the rest of the state of Virginia. Residents of Bedford enjoy one of the most affordable areas to live in within the entire state, which translates into a high quality of life for virtually everyone.
Bedford Moving Resources
Despite its small size, there are a lot of moving resources available for those moving to Bedford. Anyone in search of Bedford movers can rest assured that they have a large number of available moving companies. With this being the case, Virginia Movers remains the best moving company. Bedford is a wonderful city to move to, and Virginia Movers can help make your moving experience wonderful as well.
Transportation in Bedford
Bedford is located at the intersection of US Routes 460 and 221, which provides convenient access to many other larger parts of Virginia, including easy access to Lynchburg. Although Bedford doesn't contain many options for public transportation within the city, there are a number of bus providers that provide access to other parts of the state and the country. Greyhound Lines provides interstate bus routes through its bus station, and there is even a shuttle that provides rail access to the Amtrak rail station in Lynchburg. Air travel can be found in the nearby cities of Lynchburg and Roanoke.
Culture and Contemporary Life
The National D-Day Memorial is located in Bedford, which commemorates the soldiers who lost their lives during the Allied invasion of Normandy during World War II. This memorial draws a large number of visitors each year and is one of the most famous landmarks within the town. Due to the historic nature of much of the state of Virginia, Bedford also has easy access to many of the nearby historical sites, many of which are linked to the Civil War.
Bedford Relocation Tips
As with moving to any city, we recommend that you find or create a moving checklist of things to do prior to your move. Moving can be exciting, but also stressful, and making sure that you have everything covered prior to your move should be your first priority. Don't forget that everything must be prepped for your new house along with packing, so don't forget to turn on your utilities such as water and electricity.
Helpful Information
We know that you are excited about your upcoming move to Bedford, and we would love to share in your excitement! If you have any questions or concerns about your move, or you need any additional assistance, please feel free to contact us at Virginia Movers. We are always willing to help!