Moving Guide from Virginia Movers: How to Move to Charlottesville, VA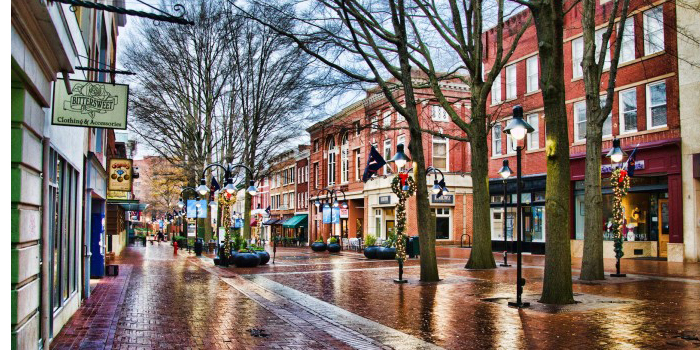 Are you thinking of moving to Charlottesville VA? In case if you have already found a job within the area, but you don't know anything about where to live or other necessary information about this city we have created this guide for everyone who are interesting in moving to Charlottesville VA. It should tell you all you need to know about finding movers in Charlottesville VA. There are many Charlottesville moving companies, but the best place to start your search is with this guide from the best professional movers Charlottesville, Virginia Movers!
Summary of Charlottesville – Interesting Facts
Location – Central Virginia
Climate – Humid Subtropical, perfect nearly all year around
Charlottesville VA is a beautiful, historic city located in central Virginia. With a deep history rooted in the foundation and early years of the United States, Charlottesville was the home town of two former US Presidents and played a role throughout the history of the United States.
Climate in Charlottesville
Most of Virginia shares a humid sub-tropical climate, which means that the state enjoys four distinct seasons throughout the year. Charlottesville has the pleasure of being host to pleasant seasons, with summers being hot and sometimes humid, and winters being cool, but not bitterly cold. While snowfall can happen during the winter, the average temperature tends to stay above freezing, so winter precipitation is usually not a problem.
Charlottesville Neighborhoods
Charlottesville is divided into numerous distinct and unique neighborhoods, with many of them being very pleasant places to live. Among the best neighborhoods in Charlottesville are the ones listed below:
There are other neighborhoods in Charlottesville in addition to the ones listed above.
Registering Your Car
Registering your car is an important step for those who are searching for moving companies. Charlottesville VA has many local DMV offices where you can register your car, and you can also register through Virginia's DMV Now on website
Charlottesville Schools
Education is an important consideration for people who are moving to another city, and many often base their choices of where to move on how good the education is in that area. If education is important to your choice of where to move, then you can feel at peace about your decision to move to Charlottesville, as the education system here is one of the best in Virginia.
Since Charlottesville is not a large city, almost all neighborhoods are within close distance of the public schools, which are administered by Charlottesville City Public Schools. In addition, there are numerous private schools in the area, so you have a large and diverse choice in regards to your children's education.
Charlottesville is also the home of the University of Virginia, one of the oldest and most renowned universities in not just Virginia, but in the United States.
Charlottesville Employment
Much is the employment within Charlottesville is provided by the University of Virginia, along with the several hospitals in the city. Along with education and medical care, there are several other industries located within the city, including the pharmaceutical and financial industries.
Living Costs in Charlottesville
Although a relatively small city, Charlottesville has a cost of living that is higher than the national average. Real estate prices tend to be fairly high within the city, with slightly lower prices in the nearby area. This higher cost of living is mainly due to the historicity of the city, along with many high-paid jobs within the area. Despite this, the average salary in the city also tends to be higher than the national average, so you should not have difficulty living a comfortable life here.
Charlottesville Moving Resources
Since this is a moving guide, it only makes sense to include a section about moving companies. Charlottesville VA has many moving companies that service the city, which provides a large choice of movers. Charlottesville also is serviced by the best moving company in Virginia, Virginia Movers. We are consistently rated the best Charlottesville VA movers, and our customers have always been happy with our service. We know that you want to find the best Charlottesville moving companies, so you can feel safe and service with our services.
Charlottesville Transportation
There are several highways which service the city of Charlottesville and the nearby areas, so traffic in this relatively small city is almost never a problem. There is also bus service located in the city, including University Transit Service, which provides transportation services to the students of the University of Virginia. For air travel, travelers can use the Charlottesville-Albemarle Airport, which provides air routes to many different cities.
Culture and Contemporary Life
With being the home of two former US Presidents, Thomas Jefferson, and James Monroe, there is a rich history of the city and nearby, which gives history lovers plenty of things to do and places to see within the city and the surrounding area. There is also an amazing amount of events and attractions hosted in the city throughout the year, despite its small size.
Shenandoah National Park, which is located close to the city, has many interesting sites, including much beautiful scenery, and recreational activities which are hosted year round.
Within the city, there are many interesting historical sights as well, along with many recreational activities and seasonal events.
Charlottesville Relocation Tips
There are many important things to do before and during your search for movers. Charlottesville may be a city that you have never been to or know nothing about, so first and foremost, we recommend that you read through this moving guide thoroughly, even before selecting your Charlottesville moving company.
Before you move, it is highly recommended that you make a checklist of things that you need to do, including packing, taking care of utilities in both your current and new homes, and finding out more information about your new destination. If possible, you should try visiting Charlottesville if you have never been there before, so you can scope out everything that you need to know about prior to your move.
Once you have taken care of the above, you can safely choose the best Charlottesville moving company, Virgina Movers!
Helpful Information
Moving can be a very busy time in your life, and as such, it is easy to forget some important things to do before and during your move. If you have questions at any time, please contact us. You can rest assured that you have found the best movers Charlottesville VA. We are the premier professional movers Charlottesville, and we can provide you with any assistance that you need during your move. Good luck!