Moving Guide from Virginia Movers. How to Move to Lynchburg, VA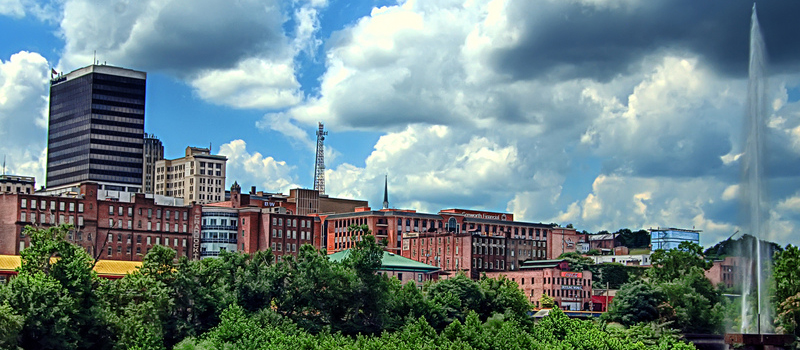 Are you looking for moving companies in Lynchburg VA? If you are looking for Lynchburg moving companies, then you've come to the right place!
We are the best movers in all of Virginia, and we can provide moving services for any and all necessities, ranging from very small loads to large corporate moves. We can also assist in any services related to moving, ranging from wrapping and packing to providing moving checklists.
For all people looking for movers in Lynchburg VA, we can provide moving services tailored to your specific needs. The following moving guide can help you with moving to Lynchburg VA and finding the best Lynchburg moving companies.
Summary of Lynchburg – Interesting Facts
Climate – Humid Sub-tropical, with four beautiful and pleasant seasons
Lynchburg is a beautiful, historic city located in the foothills of the Blue Ridge Mountains on the bank of the James River in Central Virginia. Known as the "City of the Seven Hills", Lynchburg has a distinguished history, being the only major Virginian city not captured by Union forces during the Civil War. Much of the history of Lynchburg is tied to the Civil War, with more than 40 sites registered on the National Register of Historic Places.
Climate in Lynchburg
Lynchburg has a very pleasant climate year round, which means that outdoor activities can be enjoyed at all times of the year. Our summers are hot and humid, but night-time temperatures are much cooler and very pleasant. Our winters are mild, with very low amounts of snowfall and rare sub-freezing temperatures. This also means that the climate should rarely interfere with your moving plans.
Lynchburg Neighborhoods
Lynchburg has an array of historic neighborhoods that were created on the seven hills that the city is known for. Over the years, other neighborhoods have sprung up inside the city, as well as on the outskirts. Most neighborhoods and quiet and pleasant, with short commute times to the important industries within the city.
Registering Your Car
Virginia has made it very easy for those moving from another state to register their cars in the state. Registration can be done either by going to a local DMV office, or by using the Virginia DMV Now website: here
Education in Lynchburg
Education in Lynchburg is very conventent for most people, as the city is home to numberous public elementary, middle, and high schools, which are all administered through Lynchburg Public Schools.
There are also a number of private schools within the city of Lynchburg, most of which have religious affiliations.
Along with public and private education, there are a number of universities located in or near Lynchburg. Counted among these universities are the Virginia University of Lynchburg, and Liberty University.
Things to do in Lynchburg
Being a historic city with more than 40 sites on the National Register of Historic Places, there is plenty of history to be experienced in the city of Lynchburg. Below is a list of some of the most popular places to explore in Lynchburg:
Riverwalk Trail
Historic Sandusky
Amazement Square
Old City Cemetary
Lynchburg Museum
Maier Museum of Art
Jones Memorial Library
Court House Hill
Along with these attractions, we also have many modern movie theaters, several large shopping centers, and many other interesting places to visit within the area.
Transportation in Lynchburg
There are several large highways that service the city of Lynchburg, including US Route 29, US Route 501, US Route 221, and US Highway 460. There is no Interstate that runs through Lynchburg, but both US Route 29 and US Highway 460 have been upgraded to interstate standards.
Local bus transport is provided by the Greater Lynchburg Transit Company, which also provides shuttle bus service to the Liberty University campus.
Kemper Street Station is the home of intercity passenger rail as well as bus service.
Lynchburg Regional Airport is the local airport, which provides air service to Charlotte, with seven daily arrivals and departures.
Lynchburg Employment
Lynchburg is an ideal place for employment due to having many industries combined with a low cost of living.
Some of the industries within Lynchburg include medical care, nuclear technology, pharmaceuticals, and material handling. There are also many positions available within Lynchburg's many educational institutions. Lynchburg has been able to maintain a steady economy due to the large number of small businesses located in the city, and is frequently named in the Top 10 Digital Cities.
Living Costs in Lynchburg
Living Costs in Lynchburg VA is significantly lower than in most major metropolitan areas of the United States. The median annual income for a household is around $32,000, and is around $41,000 for a family. The housing market within the city has adjusted to these prices, which means that most people with an average salary can live quite well in our city.
Moving Companies in Lynchburg
There is a large variety of movers in Lynchburg VA. If you are looking for moving companies in Lynchburg VA, Virgnia Movers can provide all of the necessary moving services for a low price and excellent service. Anyone who is looking for moving companies Lynchburg VA can be assured that the best movers in Lynchburg VA are Virginia Movers.
There are many choices in Lynchburg moving companies, but the best Lynchburg movers are with Virginia Movers.
Lynchburg Relocation Tips
We highly recommend for anyone who is moving from another city or state to come visit our wonderful, historic town of Lynchburg prior to moving. It is best to become acquainted with your neighborhood, and with all necessary places and services, such as schools, hospitals, banks, etc.
It is also a good idea to find your housing utility services, such as water and waste water, gas, and electricity, before you complete your move.
Helpful Information
Anyone looking for movers Lynchburg VA can do no wrong with us, Virginia Movers are among the best moving companies Lynchburg VA. Of all of the Lynchburg movers that are available, we are the best choice!