Moving Guide from Virginia Movers. How to Move to Roanoke, VA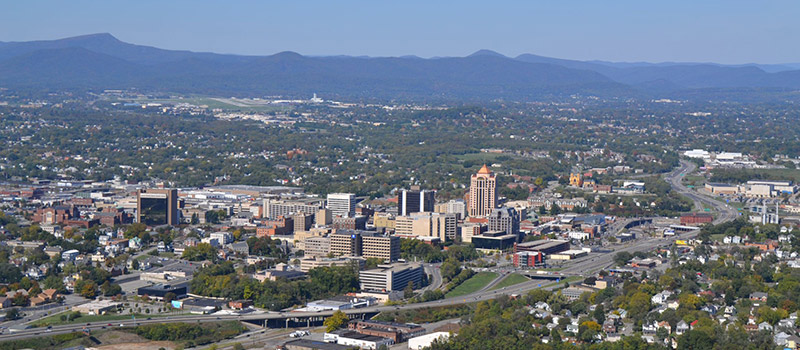 Welcome to Virginia Movers, one of the best moving companies in Roanoke VA. If you are looking for Roanoke moving companies, then this moving guide can provide you with all of the necessary information for those relocating to Roanoke VA.
Virginia Movers is the top moving company in Roanoke, VA. We provide all services related to moving, such as packing, moving of all items, moving checklists, and more. We have a reputation as the best moving company in Virginia.
If you are looking for movers Roanoke VA, our top team of moving professionals can help you with all aspects of your move. Please enjoy this moving guide, which was made to help you with moving to Roanoke VA and finding the best Roanoke moving companies and Roanoke Movers.
Summary of Roanoke – Interesting Facts
Location – Central / Southwest VA
Climate – Humid Sub-tropical, with four distinct but mild seasons
Roanoke is a beautiful city located in the Roanoke valley of the Blue Ridge Mountains. It is the center of the Roanoke Metropolitan Statistical area, which is comprised of several other smaller towns, and is the commercial and cultural hub of Southwestern Virginia.
Climate in Roanoke
Roanoke, with four distinct but very mild seasons, has a very pleasant climate year round, which means that outdoor activities can be enjoyed at all times of the year. This also means that the climate should rarely interfere with your moving plans.
Roanoke Neighborhoods
Roanoke is divided into 49 individual neighborhoods, which are all located in the city proper. Most neighborhoods have easy access to all parts of the city. It is also common for people who work in Roanoke to live in one of the adjoining towns and commute to their workplace within Roanoke.
Registering Your Car
If you are moving to Roanoke VA from another state, then it will be necessary to register your car in the state of Virginia. Virgina provides easy online registration and renewals through the DMV Now website: here
Education in Roanoke
Primary education in Roanoke is provided by the Roanoke City Public Schools. Among the numerous elementary schools, there are three middle schools and two high schools located throughout the city.
There are also a number of private schools within the city of Roanoke, most of which have religious affiliations.
Along with these schools is the Central Virginia Governor's School for Science and Technology, located in Heritage High School. This is one of eighteen Governor's Schools in Virginia, which focuses on infusing technology in math and science programs.
There are a number of colleges and universities located in Roanoke, including Central Virginia Community College, Liberty University, and the Virginia University of Roanoke.
Things to do in Roanoke
Roanoke has an array of special events and festivals that occur throughout the year, so there is never any time to be bored here. Below is a list of some of the most popular places to explore in Roanoke:
Mill Mountain Zoo
Virginia Museum of Transportation
Taubman Museum of Art
Elmwood Park
Blue Ridge Parkway
Booker T. Washington National Monument
Roanoke Star
Along with these attractions, we also have many modern movie theaters, several large shopping centers, and many other interesting places to visit within the area.
Transportation in Roanoke
Interstate 581 is the only interstate that passes through Roanoke. However, several other main roads run through the city, such as US Route 221, State Route 117, and State Route 101.
Roanoke Regional Airport serves the city of Roanoke, and is located in the northern part of the city.
The Valley Metro Bus system provides bus services in Roanoke and the surrounding areas.
Roanoke Employment
Roanoke is an ideal place for employment due to having many industries combined with a low cost of living.
Roanoke is the medical and retail hub of a large portion of Virginia, which means that jobs abound in this region. UPS also has a major hub in the city, which provides a large amount of jobs in the region.
Living Costs in Roanoke
The cost of living in Roanoke VA is significantly lower than in most major metropolitan areas of the United States, and is lower than many other large cities within Virginia. The median income for a household is around $30,000, and is $37,000 for a family.
Moving Companies in Roanoke
Virginia Movers are the premier movers Roanoke. If you are looking for moving companies Roanoke VA, we can provide all necessary moving services in a friendly and professional manner. Looking for a moving company Roanoke VA can be a daunting task, but our movers Roanoke are the most experienced, friendly, and professional in the city. We provide all ranges of services connected with moving, such as packing/unpacking, assembly and disassembly of furniture, manpower and transportation, the clear marking of goods and inventory, office setup, and many other services.
There are many choices in Roanoke moving companies, but the best Roanoke movers are with Virginia Movers.
Roanoke Relocation Tips
If you are coming to the Roanoke VA area for the first time, it is important to read through this guide thoroughly.
We recommend visiting the city and your specific neighborhood prior to your move, as well as mapping out all points of interest, including places of employment, schools, nearby hospitals and clinics, food services and grocery stores, and other places that you may require.
It is important to find out which companies or entities provide necessary utilities services to your home, including water and waste water, electricity, and heating/gas service.
For internet services, there are multiple high speed internet services within the city.
Helpful Information
This guide is made for those who are relocating to Roanoke VA. If you are looking for movers Roanoke VA, Virginia Movers are one of the premier moving companies Roanoke VA. As the leading moving company Roanoke VA, we can help you with all aspects of your move. If you have any questions regarding movers Roanoke, then please don't hesitate to ask!